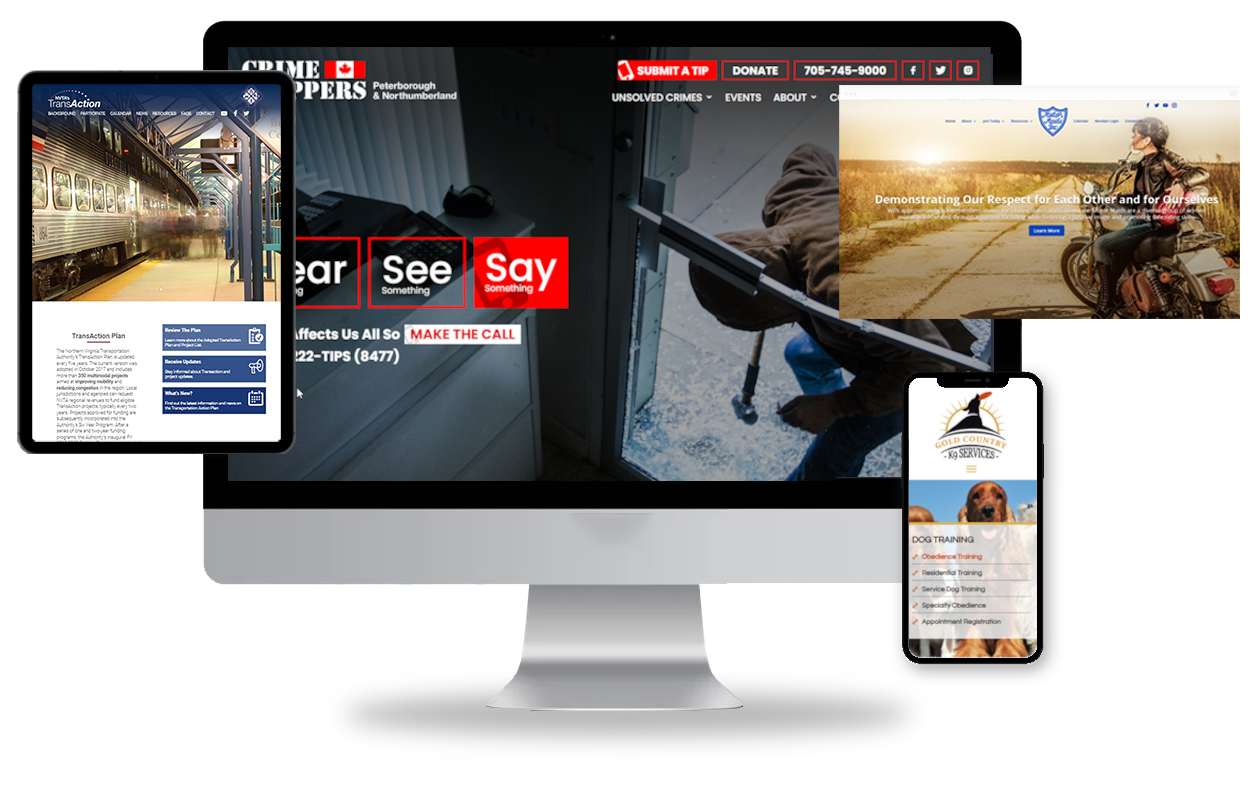 Your Full-Service Website Design and Development Partner
Powering your profits through innovative web solutions for over 20 years.
Emmatt Digital Solutions Inc. is a Peterborough-based, full-service marketing agency that specializes in web design, web development, branding, content management and web marketing.
Since 1998, our expert team has developed brand-focused web solutions for clients in a variety of industries, enabling them to enter new markets, build and strengthen customer relationships, and gain the competitive edge they need to succeed.

Innovation
Using the latest tools, technology and best practices, we work hard to create personalized, unique solutions to keep you ahead of the competition.

Reliability
We take pride in going the extra mile for our clients. We've built an impressive track record of consistently turning out high-quality work and delivering the ultimate user experience.

Trust
With a client-centered approach, we've built strong business relationships that focuses on solving their creative/business dilemmas for over 20 years.
From concept to development, we make sure your website meets the best in marketing, design, mobile and tablet responsiveness, and best practices.
Increase your efficiency with custom customer relationship management systems (CRM), safety lockout and inventory control systems, and digital advertising platforms.

Get subscription-based platforms ready for you to use, like easyPledge Fundraising, easyLMS, eCommerce systems, and BallyhooTV.
A broken website is embarrassing – and it's bad for business! Our website maintenance, data backup and Emerging Cyber Threats programs make it super easy for you to keep your website secure and fully-functional.
Driving more traffic to your website can turn into more leads for your business. If you're not improving your search ranking, your competitors are improving theirs!
Working with you, we'll develop and implement a sustainable social media strategy that builds your web presence and drives your business.
Did You Know?
Search engine optimization (SEO) is crucial to get
prospects to your website and not to your competitors.
67,000 Searches are preformed on Google every second
94% of all web traffic originates from organic searches
70-80% of users rely on organic search to find businesses
How visible is your website?
Get your FREE, no-obligation SEO audit today!

Marianne
Motor Maids Inc.
"Thank you all for the launch of our new website and membership site. It is a wonderful site that has got ten rave reviews from our members. We have had over 500 responses for our annual renewal document completion with the overwhelming response being how easy it was to complete."

Patti
Peterborough Bath Renovators
"We have been using different services from Emmatt Digital Solutions for quite sometime now and we are always elated with the expertise and knowledge from all the staff. Thanks Emmatt for always providing us with exeptional service!"

Alan
Cohen Publications
"My company has been working with Emmatt for about 2 years, with extremely positive and rewarding results. The staff is professional, courteous, and, most important, they know their craft. They have done a number of different projects for us, all successful."