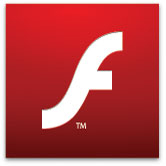 If you haven't heard yet, Flash is dead.
Okay, I know, that claim is extremely premature, but that seems to be the hyperbole-filled sentiment that's floating around the web these days.
Adobe, the industry giant responsible for this ubiquitous multimedia technology claims that it has thrown in the towel on further development of Flash on the fastest growing segments of computing technology – ie: mobile phones and tablets – it's not too much of a stretch to see a world where Flash has been supplanted by more open technologies such as the rich combination of HTML5, Javascript and CSS3.
Flash, like many web industry standards, is a combination of tremendous blessings and frustrations.  In the early 2000's it exploded on the Internet, providing rich, interactive experiences that hadn't been seen before on the relatively flat web sites of the day. It gave us colourful, smooth animations along with audio and video at a quality scarcely seen before. Without Flash, Youtube would have floundered in obscurity, we may not have been entertained by those interactive Google Doodles, and worst of all, we may still see the animated GIF dancing babies that plagued the Internet back in the day.
Frustrations arose when well-meaning and highly creative people started building full websites in Flash, providing random, inconsistent user experiences, broken functionality as versions improved over time, and eventually, sites that were completely inaccessible to huge, growing sectors of the Internet market. Luckily, the death of the Flash-based site came quick, and Adobe improved their backwards-compatibility over time.
Unfortunately, the strong sales of the iPhone and iPad alongside the even stronger will of Apple executives to disallow the  Flash plugin to function on their devices, have dealt Adobe's workhorse multimedia platform a blow that it's simply unwilling  to deal with. Adobe announced earlier this month that they will no longer be continuing to develop this product for mobile devices, and will be concentrating  efforts on the HTML5 platform, which has a much wider base of industry support.
Even so, you can expect to continue to see Flash on desktops for some time. To this day, the bulk of Youtube's video repository is  available exclusively through the Flash version of its player, and a sizeable percentage of desktop browsers do not support much of the more advanced layout, multimedia and animation features of HTML5 or CSS3 that Flash excels at. You can be sure that in the next few years though, the Internet will go through another revolution nearly as profound as the one that Flash itself created.